Sponsored by: Open Hearts. Open Minds. Strong Values.
Open Hearts. Open Minds. Strong Values.
Clergy
Throughout its history, Congregation Beth Israel has been blessed with outstanding spiritual leaders. Today, CBI's distinguished clergy, consummate professional staff, and engaged lay leadership mirrors the diversity and strength of this vibrant congregation.
Our Clergy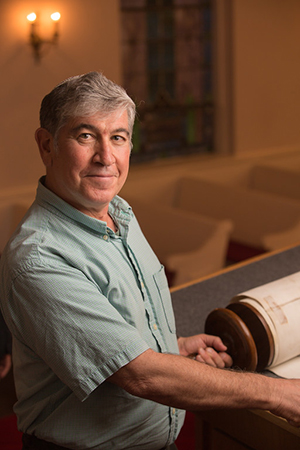 Rabbi Thomas (Tom) A. Gutherz, Senior Rabbi
Email, Ext. 100


Rabbi Tom Gutherz began his role as Senior Rabbi in 2016 after serving as CBI's Rabbi Educator for 11 years. He was ordained in 1993 by Hebrew Union College-Jewish Institute of Religion and has over 35 years of experience in formal and informal Jewish education, including 12 years as Rabbi of Agudath Sholom Congregation in Lynchburg, Virginia.
A native of Cleveland, Ohio, Rabbi Tom grew up in Rochester, New York. He earned his Bachelor of Arts degree with a major in History at the State University of New York at Binghamton in 1977. Before assuming the position of Rabbi of Agudath Sholom Congregation, he was a member of Kibbutz Gezer in Israel, working as a primary school teacher and a dairy farmer. Rabbi Gutherz also served as an adjunct professor in the Department of Religion at Lynchburg College and is a former member of the NCCJ Board, the Lynchburg Neighborhood Development Foundation, the Holocaust Education Foundation, and the Marriage Alliance of Central Virginia. He is a frequent participant in interfaith and diversity programs with NCCJ's Interfaith Dialogue Group and Metrotown, as well as the Martin Luther King Center for Human Rights.
Rabbi Gutherz is committed to providing quality Jewish programming, education, personal enrichment, and social activities for congregants of all ages, backgrounds, and worship styles.
Rabbi Rachel Schmelkin, Associate Rabbi
Email, Ext. 401
Rabbi Rachel Schmelkin began as Rabbi Educator in the summer of 2016 after serving her rabbinic internship and teaching at Northern Virginia Hebrew Congregation in Reston, VA. She received her Bachelor of Arts in Psychology and Jewish studies from Indiana University at Bloomington with minors in Hebrew and History. She was ordained through Hebrew Union College-Jewish Institute of Religion, and was a recipient of the Tisch Rabbinical Fellowship as well as the Hoffman Prize in Liturgy.

Rachel grew up in Cincinnati, Ohio. Her interest in becoming a Rabbi began during her formative years spent at URJ's Goldman Union Camp in Zionsville, Indiana as a song leader and unit head. During college, she lived in Tel Aviv for a semester exploring Israel's history, culture, and society.
In her first year of rabbinical school, Rachel volunteered at Beit Eden in Ramla, Israel at a home for children with special needs and led music for Shabbat Services at Congregation Kehilat Birkat Shalom on Kibbutz Gezer. While in New York, she taught at Rodeph Sholom, and B'nai Jeshurun, and served as the Student Rabbi for Congregation Beth Am in Monessen, Pennsylvania. Rachel enjoys singing, playing guitar, jogging, playing backgammon, reading, and taking long walks.


Rabbi Daniel Alexander, Rabbi Emeritus
Email
Rabbi Daniel Alexander became the first Rabbi Emeritus of Congregation Beth Israel in January 2017, having served CBI as Rabbi or Senior Rabbi for twenty-eight years, from 1988 to 2016. From 1979 to 1988, Rabbi Alexander served as Executive Director of the B'nai B'rith Hillel Foundation at the University of Virginia. Rabbi Alexander has also held the position of part-time Lecturer in the Department of Religion at UVA, teaching such courses as Biblical Hebrew, American Judaism, and Midrash.
During the past 28 years, Rabbi Dan has witnessed the significant growth of Congregation Beth Israel in both size and in vibrancy. He has helped the congregation emerge as a dynamic learning and worshipping community that invites diversity and seeks to empower its members to grow in spiritual depth and to engage in causes of social justice.
Rabbi Alexander is a past President of the Alliance for Interfaith Ministries [AIM], has served on the Executive Board of the Interfaith Movement for People in Congregations Acting Together [IMPACT], and for many years on the planning committee for the annual Martin Luther King Celebration. Even in retirement, he continues to speak to groups from churches, civic organizations, and schools. Retirement has provided him with the opportunity to become a Court Appointed Special Advocate [CASA], to volunteer in an ESL class at the Adult Learning Center, and to join the Community Advisory Board of JABA. As an emeritus rabbi, he continues to find venues for teaching, pastoral counseling, and, now and then, leading worship. In 2017, he served as a High Holiday rabbi in Staunton and Harrisonburg, and for one week in both 2017 and 2018, as the rabbi-in-residence at the Chautauqua Institution. When available, Rabbi Dan has willingly responded to requests from Rabbi Tom or from Rabbi Rachel to provide coverage or to otherwise serve as a third rabbi to the CBI community. His tenure and retirement prompted the Virginia House of Delegates (on March 4, 2016) and Senate (on March 10, 2016) to issue Joint Resolution No. 381, a commendation of Rabbi Alexander for his 37 years of service to the Jewish and general communities.
Rabbi Alexander received his Rabbinic Ordination from Hebrew Union College-Jewish Institute of Religion in New York City in 1979. In 2002, he received his Doctor of Ministry degree from Wesley Theological Seminary and in 2004 he received a Doctor of Divinity degree from Hebrew Union College. He has done graduate work in Islamic Studies at UVA, took a Sabbatical semester at the Weston Jesuit Seminary, and completed training in Jewish Spiritual Direction from the Morei Derekh Program and in Mussar instruction from The Mussar Institute. He continues to immerse himself in Mussar studies with the Mussar Institute and has also received training from the Institute for Jewish Spirituality In the Wise Aging Curriculum. In 2012, a generous member of CBI published an anthology of his sermons called Seeking the Way: Jewish Reflections on Matters of the Head, the Heart, and the Hand. (The anthology is available for purchase in the CBI office.)
Rabbi Dan and Dela Alexander are the proud parents of two adult children, Talia and Benjamin, who grew up in Charlottesville and for whom CBI remains a home away from home.
Sun, June 7 2020
15 Sivan 5780
Sun, June 7 2020 15 Sivan 5780